The Meta Garden: Growing the Future, designed by Joe Perkins
This gold award winning garden from RHS Chelsea Flower Show 2022 has been rehomed here at CONKERS. The National Forest was charity partner for the garden at Chelsea and Meta has funded the rehoming to Conkers, where many more people will be able to enjoy it.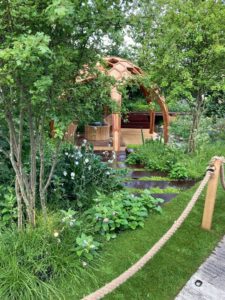 The garden was designed to highlight mycelium, the crucial relationship between soil, fungi and plants, which together form the basis of resilient forest ecosystems. The central pavilion reflects the structure and form of fungi that form the underground mycelium.
Like nature's mycelium, it is the communities that have come together to create the National Forest. Local volunteers have planted the garden and continue to care for it.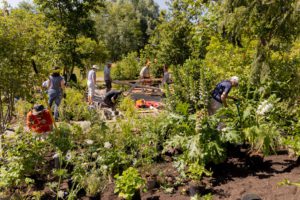 The garden is all about championing natural solutions to climate change and how we can both create more and protect our wonderful British woodlands. By reusing the garden and making it more accessible we hope it will help people to connect with each other to better understand, care for and enjoy the National Forest.
Both the original garden and the rehomed version used no concrete in their construction, demonstrating that other techniques can be used to create secure structures.
The trees are included in The Queen's Green Canopy initiative, which is focused on planting trees to celebrate The Queen's Platinum Jubilee.